Student Residence Renovation Gives Students Room to Grow

10pam11>11/11/2013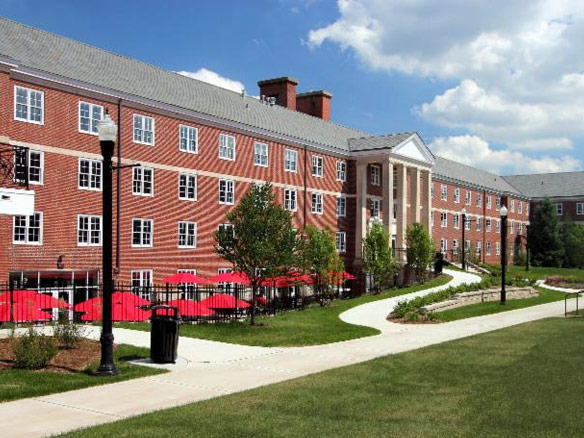 In the fall of 2013, Northern Illinois University reopened its residential Gilbert Hall after a state-of-the-art renovation as part of NIU's Vision 2020 initiative.

"We are working hard to create the best possible living-and-learning environment as part of our focus on student career success," said NIU President Doug Baker.

Gilbert Hall first opened in 1952 as the third dorm on the University's campus, and it had not been used to house students for eighteen years. The new hall offers single and double rooms, as well as expanded double rooms for upperclassmen. The renovation features a cyber-café dining area with outdoor patio, updated lounge areas and meeting spaces, a safety center for NIU police, a fitness center, private bathrooms, new laundry and vending facilities, and fully updated HVAC and sprinkler systems. The 4-story building now has air conditioning, new furnishings, an elevator, and wireless internet.

The renovated student residence is a backbone of support and social development for students. Its well-resourced and comforting residential atmosphere enhances students' opportunities for achievement not only in the classroom, but also socially and professionally.

"Our students deserve top-tier facilities, and this project will enable the university to better meet the changing needs of students," said former NIU President, John G. Peters.

As the only residence hall located on the far east side of campus, Gilbert Hall is a convenient and extremely popular living option. With 291 beds, it allows many students to live nearer to NIU's main academic buildings.

"As this beautifully renovated residence hall opens its doors again, it reflects the signs of our time," Baker said. "With students back on the east side of campus, there is a new level of activity at the core of campus; a coming together in new ways - an enhanced sense of community."

The Gilbert Hall renovation not only offers the most sought-after (and secure) features of NIU's other residence halls, its design also preserves the building's historical character. The comprehensive modernization of this 75,000 square-foot building maintains its traditional charm as it provides modern amenities.



Back to News Index